Below please meet our devoted 2017 designers. 
Please read about them…start to get to know them a little.
Above all don't forget to sign on to our mailing list (upper right on this page) to find out how to join us with YOUR designs for 2018!
Alphabetical by last name below.

BrianaBrewer & Dji Shodgen
Christine Carico
Gaia Cascio
Neva Case
Molly Daniels
Kelly Denee
Valerie Elder
Justine Englehardt
Sehra Evans
Eliane Gateno-Fallenbaum
Maria Garcia Teutsch
Shelby Hawthorne
AmyLynn Iliff
Ivy LaVelle
Noel Mapstead
Molly Moffat
Bill Morehouse
Katy Newman
Jamie Oksas
Jessica Perez
Tracey Roginson
Vanessa Share
Peery Sloan
Ben Spungin
Miranda Talbott
Lynnette Tolentino
Nischala Tulley
Morganne Tree Newson
Vanessa Share
She is a Big Sur resident of over 40 years. Mother of a Wonderful Daughter. Cocktail Crafter @ Post Ranch Inn.
Upcycler, Reuser, Recycler: "I love being involved with and creating for; obscure artistic endeavors like the Big Sur Fashion Show as well as a collaborative effort called Big Surreal that brings together people for music art and dance. luvlabproductions.org.  I have also been involved with Feed The Artists at Burning Man and Creating Cocktails for Artsy and Upscale Weddings and Parties in Big Sur. thedrinkmixtress.com. One of my favorite things to do in my free time is to work in my garden that overlooks the Pacific Ocean."
__________________________
Gaia Cascio

I live with my family in Big Sur on Palo Colorado Canyon.  I have participated in many different roles over the years since the very first Fashion Show in 2009.  This year I will be playing with paint and the human body again.  See you In Your Dreams!
______________________
Noel Mapstead
Noel was raised and has been in the Carmel & Big Sur area all of his life.  He has known about the show since its beginning but got excited about this years theme, "In Your Dreams", which for him coincides with a poem by Robinson Jeffers "The Woman of Point Sur", which he is greatly inspired by.  He's excited to join in the fun!
______________________

Briana Brewer & Dji Shodgen
We live in Southern Big Sur.  We are artists and designers of natural organic and resourced clothing and jewelry.  We participate as a way to showcase our abilities and talents as designers and we enjoy the challenge of working with non-fabric materials.
______________________
Kelly Denee
I'm an artist living in Big Sur, where I oil paint, make clothing, bags and boots with up-cycled materials, and wire-wrap gemstone jewelry and crystal crowns.  The Big Sur Fashion Show is special to me because it's a coming together of creative souls, and a time to celebrate life.  This Fashion Show is one of the reasons that I chose Big Sur as my home.  I saw the beauty and creativity of the people here, and felt like this is where I belong!
Peery Sloan 
Peery is a curious and restless gal. Her love for Big Sur came after volunteering at the Henry Miller Memorial Library for a couple of summers. After stints in Nashville, Boston, New York, San Francisco, and Montana she is thrilled to return to Big Sur and press pause. As an artist, she loves getting dirty and feeling a long day's work on her hands.  She is full of quirks and often found hanging upside down in a funky yoga pose.  As an eternal optimist, Peery strives to encourage others' personal journeys and originality through a supportive community. This is her first involvement with the Big Sur Fashion Show and has quickly fallen in love with the creativity, folks involved, abundance of sequins, and the everything-goes-attitude.
Ben Spungin
Pastry Chef.  Father of 2.  Husband of 1.  Inspirations include chocolate, sunsets over the ocean, condors and things that smell good.  Love life.  Do great things.  I've been inspired by this show since its beginnings and haven't had the chance to participate, so this is my year!
Christine Carico
Christine has lived in the Monterey Bay region for about five years.  Her love for the environment has lead her to want to help create a symbiotic relationship between human lifestyle and natural ecosystems.  Working in the restaurant industry, she has recognized the over consumption of single use items, such as plastic straws.  She chose to Design for the Show to bring awareness to the fact that we use some items for five minutes, yet they last in the environment for up to 500 years.  "We can create multi use products that positively impact our lives and the world around us.  The first step in creating change is bringing community together."  This Show to Christine is a creative way to build awareness, fun and community.
AmyLynn Iliff

She is an LA transplant who moved up to be closer to Big Sur.  It called, she answered.  She is a true believer in do what you can, with what you got, while you still can.  She's dreamed of attending the Big Sur Fashion show & is honored to be able to participate!
__________________________
Justine Englehardt & Bill Morehouse
Justine has been Designing for the Fashion Show since the 2nd year.  She truly loves Big Sur, its her home, her community, her passion.  The Fashion Show allows her to show a lil' of herself each year and the wacky creativity is a true driving force.  This year she is co-creating with her boyfriend Bill Morehouse whom has followed her steps getting involved as part of the core team of YettiFest Blues, Rock, and Reggae Music Festival.  He has been a huge support in making visions a reality also creative as a Tattoo Artist, Handyman and Jack of All Trades.  His passion for animals, nature, and mountain biking gravitate his energy towards Big Sur and the Santa Cruz Mountains.  This is not the first time these two partnered their visions into reality but this is the first time they are bringing it to life on stage at the Big Sur Fashion Show.  So excited to be here together!
__________________________
Tracey Roginson
I've lived in Big Sur for 35 years.  My family and I would visit this beautiful place with amazing people when I was growing up so I just HAD to live here.  I participate because the idea of Designing clothes without using traditional fabric is SO creative and enticing to me.  Its special because all these wonderful people are involved, you get to share your creativity as well as see others creativity and it's a joyful event.
__________________________
Sehra Evans
She was born and raised in Big Sur in Palo Colorado Canyon.  Now living in Monterey, but her heart is always in the woods.  She has participated in the Fashion Show by being on the Hair & Makeup team doing hair.  By being more involved in the production end of things, she is inspired by the creativity and being able to feel free to express yourself that the Show offers.  When it comes to doing work (hair) outside of the salon, she is drawn to anything that seems limitless.  She is welcoming this chance to push herself out of her "doing hair" comfort zone and is excited to join in the Designing fun!
__________________________
Lynette Tolentino
If any one can say they know the Big Sur Fashion Show inside & out, it's Lynette.  She has rolled up her sleeves in many roles, décor, designer, model, being on the Committee and now in her second year as the show's Creative Director – she's done it all! Her love and passion about the Fashion Show inspired her to document and subsequently produce and direct "Ashes to Art" a film about the creation and making of the Fashion Show, which was shown at the 2014 Carmel Film Festival. She lives in Palo Colorado Canyon and is a creative force in the Big Sur community.
__________________________
Jessica Perez
I was born and raised in Monterey, however my family has deep seated roots in the Big Sur area.  I truly enjoy creating crafts on my days off and my time spent in the magical forests of Big Sur has inspired my esthetic and has also become my second home.  I find inspiration from everywhere, however more recently attending the Big Sur Fashion Shows, has really given me the jumpstart I needed to start Designing my own pieces.  This year I decided to be part of the Show!  I loved how creative artists could come together and make a vision come to life.  Our imagination just ran wild, and we created beautiful work that stayed true to the Big Sur culture but also represented each one of us in a unique and authentic light.  With Designing, ideas come naturally to me.  I am super excited to show my artistry, and I am confident I can make a positive impact on the community and eventually the world!
__________________________
Jamie Oksas
Ever since moving to the Monterey Peninsula I dreamt of living in Big Sur. Secretly, I've always wanted to be an artist in my community because I have spent the majority of my life hiding and afraid to be seen. Now, for the last year and half, I breathe and paint in the grace, rough and delicate landscapes of Big Sur blooming creatively and saying "yes" to opportunities; watching them grow. Participating in the Fashion Show last year for the first time, was the ultimate unveiling for me, an opportunity to heal through art before my community. This year I'm excited to share a message of clear vision, with all of you. 
__________________________
Ivy LaVelle
My name is Ivy. I'm digging my way out from under a collapsing metaphor. You will know me by the trail of snark. I hike not enough and write poetry not well. Sometimes I'm struck senseless by the significance of sunlight. I have the same birthday as Jerry Rice, but also Margaret Thatcher, so in terms of cosmic coincidence it's kind of a wash. Cold is the truth; you will always run out of things to burn. There is such a thing as a tesseract. I live in Big Sur, and I love here, too, as much as I am able, and often more. Heaven, were it real, would be a cold river gorge on a hot desert day, forever. My feminism is intersectional. My rock is psychedelic garage. My fashion is art for art's sake, and art doesn't need to justify itself. I'm a streetwalking cheetah with a heart full of napalm. Cars should have tailfins, bathtubs should be outside and we should all stop making sense. Han shot first. All things serve the beam. My other ride is Shai-Hulud. You remind me of the babe.  Nothing gold can stay…and the piano has been drinking, not me.
__________________________
Molly Moffat
As our young family reaches our third week of Big Sur isolation, encountering fallen trees, huge boulders, and having to hike over massive landslides with three small children, all to feed our animals twice a day, I can not help, but be grateful. As I haul all of the food I can carry, along with the toddler on my back, and holding another child's hand, I look up and see my partner carrying three times the weight I am, and lovingly guiding our other child over a fallen tree, I feel the weight of the lasting impact this experience will have on all of us. How beautiful it is, to be forced to touch in with raw reality. To get your boots muddy everyday, just to get the essentials done. Most of us do not get to know how deep our strength goes, until we are faced with obstacles that shake us to the core. We may feel held down by others expectations, not realizing how much we are limiting ourselves. I refuse to be held down by others' expectations, and will only be lifted up by my own from now on.  
  I am grateful for my man, who has given me the loving space to become the woman I was meant to be. We are so grateful for the fashion show, and the opportunity to express these kinds of experiences and feelings through art. We are so excited to be a part of it again, and to tell our story of helping each other find the balance between the primal and the elegant.
__________________________
Shelby Hawthorne 
I grew up in Big Sur and now have moved back here as an adult.  My life has always been surrounded by art and I love fashion.  In this community, that is changing and growing each year with more people visiting, this is one thing that feels like the real Big Sur that I grew up with.  I like the concept of no fabric because it makes everyone think out of the box and explore new materials.
__________________________
Eliane Gateno-Fallenbaum 
Born and raised in Mexico City.  Lived in Carmel, Vail, CO, and currently in Seattle.  Crazy little tiny woman who rescues used furniture and transforms it into something that makes people smile.  She fell in love AT and WITH Big Sur.  Loves to imagine herself and her muse (Daniel Munoz) in different realities, the Big Sur Fashion Show is a perfect place to make it happen.  It gives her an opportunity to share with the amazing Big Sur community how much LOVE and INSPIRATION she has found thanks to this beautiful land and the people that make it special.
__________________________
Morganne Tree Newson
I love exploration, cats & Nature & I love to create. I have a design studio in Sausalito where I tune into the SF Bay, the Pacific Ocean & the surrounding Vistas for Nature inspiration. Fabric is my medium of choice, I play with the Power of clothing – as our second skin.- to  enhance & alter our identity. I believe in "one supremely flattering ensemble is worth a dozen so so's" I am all for uniqueness & self-expression. Am aware that we must soon revolutionize the manufacture, distribution & dispersal of the apparel industry. My experience as Costume Designer in Film, TV & Theater has gifted me with the opportunity to delve into many genres of dress. I find it fascinating how we as humans decorate, dress & adorn ourselves. So much is revealed through our choices of clothing. Costume can be Sacred if it is designed to epitomize higher truths. Costumes can give voice to our expanded Selves. We can enter the Dream World wearing our Personalized, Channeled, Custom Costume when it is imbued with Pure Power & Intention. Please enjoy my Costume Contributions to the Big Sur Fashion Show 2017.
__________________________
Molly Daniels
After serving in the U.S. Military, I decided to relocate to Pacific Grove, CA.  Since then my time has been spent raising my daughter Jordan and providing support for our local educators.  My absolute favorite thing to do when I am not volunteering is crafting and costuming.  Much of my work is inspired by a relationship with mother nature since childhood.  Big Sur has provided a generational sanctuary for artists in our family since the 1960s.  I feel there is a deep connection spiritually making use of our uniqueness.  The Big Sur Fashion Show has been by far my favorite event and I love contributing to the treasured art culture and tradition in the Big Sur community.
__________________________
Neva Case
I live in Big Sur.  I love Designing clothing and Modeling them.  I also love using recycled materials.
__________________________
Valerie Elder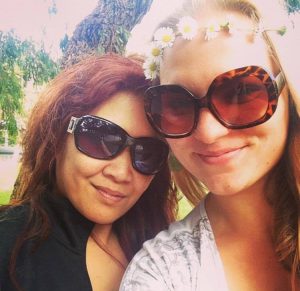 I was born in Carmel and raised on the Peninsula, and have been a tax professional for over ten years and also a passionate chef at heart.  I have two beautiful children.  Dear lover of Big Sur and its community.  After getting the opportunity to experience participating in the Big Sur Fashion Show for the first time last year, I feel compelled to take part in any way I can again.  Little did I expect to actually be IN the show when I first attended as an audience member, but thanks to my amazing friend Miranda Talbott, I ended up Modeling AND becoming a Designer.  Thank goodness we are not allowed to use fabric, because this girl does not know how to sew!! 
Miranda Talbott
She was born and raised in Las Vegas, NV.  When she moved to Big Sur in 2012, the magic of the land completely engulfed her.  She started her interest with the Fashion Show by Modeling for a good friend LaVerne McLeod, and outing her child, Mayson, into the Kids Fashion Show.  Miranda and Mayson have been involved with the Fashion show every year after that.  The spirit of the event and the awe inspiring work of the Designers and Performers have kept Miranda intrigued and wanting to help more and more every year.  Miranda's first year Designing herself and Modeling her creation, was 2016 "Bohemian Recipes".  She will continue to pursue her artistic development through the Fashion Show every year she can.
__________________________
Katy Newman
Katy was born and raised in Southern California, came to Big Sur on a camping trip in 1996 and never looked back. A mountain momma, raising her kids in paradise; she is a survivor of both fires and now floods. She's a long time costume and jewelry designer who plays with experimental ideas and loves working with metal and other non-traditional materials. She spent many wonderful years on the Big Sur Fashion Show Idea Squad, but much of this year has been devoted to overcoming the harsher realities of mountain living. This event is not just a fashion show, but rather a symbol of the magical resilience of a community that continually overcomes harsh realities. Katy is very grateful to be a part of the enchantment. 
Nischala Tulley
Originally from Massachusetts I arrived to Big Sur with only a backpack, the forest has been my home and teacher. The first time I heard the buzz about the Big Sur Fashion show I volunteered as a way to get to see the sold out show. From the moment I entered the magical Redwood Grove, I fell under the intoxicating spell and was completely enchanted. I couldn't believe all these amazing people where hiding out in the forest doing such creative stuff. The fashion show was literally a portal into a new world I had only dreamed possible, and was part of why I wanted to make this my home. Last year was my first year designing and performing, I felt honored to be included in such an epic lineage of artists and community spirit. The Fashion show was originally dreamed up as a way to heal and reconnect the tribe after the devastating 2008 wildfire. I am grateful to be able to participate this year in the wake of floods, landslides and wildfires. Times like these we need to come together more than ever and harness the healing power of creativity and community. It takes a lot of resilience to keep on walking an inspired path in the midst of disaster and destruction. I'm excited to have the opportunity to shape shift for you all very soon! 
Maria Garcia Teutsch
Maria Garcia Teutsch is a poet, editor and educator. She has served on the board of the Henry Miller Library for 15 years, the last five as president of the board. She re-imagined Ping-Pong journal for 10 years, and now edits Ping-Pong Free Press and Poet Republik Ltd. Her pre-Columbian goddess design started as a dream on Pfeiffer Ridge. The fashion show is a fertile land where dreams become reality.