This is not your average fashion show.
Started in 2009, it was the brainchild of Sara Carr and Lisa Goettel, sitting on a Big Sur barstool throwing around a few wild ideas on the back of a napkin with one clear vision— to inspire, showcase and celebrate the creativity of Big Sur. Since then, hundreds of participants have evolved it far beyond that early vision into the large & popular Central Coast event it is today.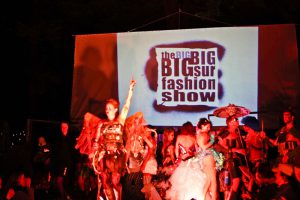 All runway acts are designed by amateur local artists who often spend months crafting their outfits.  A central challenge each year is to design entirely without fabric or traditional clothing materials. Each designer and their models orchestrate a full 2-minute runway act inspired by a different theme or challenge each year. The event showcases and supports local artists, stylists and performers and is supported by more than 200 volunteers.  It is funded entirely by ticket sales and sponsorships by local businesses and community members.
A few values took shape on the back of that first napkin that remain the heart and compass of this event:
we invite and inspire anyone and everyone to share their gifts
we look for the beauty and talent in everyone
we empower people to craft their own vision and go big
we believe in embracing the mystery of the creative process
we believe creativity thrives in limitation
we re-inspire and re-invent ourselves every year
we mentor and support new leaders
we aspire to steward our community's and planet's resources as best we can
we practice appreciation over perfection
we believe if it's not fun it's not worth doing
we do the event for no cause or reason other than we love to.
Until 2013, the Big Sur Fashion Show was not governed by any business or nonprofit organization. Now entering its ninth year, the event is fiscally sponsored by the Henry Miller Library and is governed by a steering committee comprised of dedicated participants.
All profits from the event are re-invested into the next year's fund. When you choose to attend, participate in, or sponsor this event, you are directly supporting a vibrant, joyful arts community in Big Sur and the Monterey Peninsula. This year due to the fires and storms in Big Sur proceeds will be split between the Henry Miller library and the Big Sur Relief Fund.
Unleashing creativity, worshipping beauty and opening the floodgates of joy in Big Sur.
In the News
Meet the Team
Meet the folks behind the curtain.
People Are Saying
This came from an audience member from the Big Sur community after the 2013 show:
"I am just overwhelmed, blown away by this community. I'm so proud of everybody. I think to myself 'the world ought to see how cool, how big, how amazingly talented/ creative/ imaginative/ ambitious/ strong/ capable/ wild/ fun-loving/ brave/ original/ marvelously sanely nuts this tiny little back in the woods community is!!' The rest of the world would be so surprised to see all this big….big….big-ness, of life and spirit and expression coming out of this small band of unexpected friends and neighbors.

I see Big Sur folks exhibit those traits all the time…most evident during the (all too frequent) times of crisis. I've never known a community to take care of itself, and be itself, and fight like a tiger to defend itself in ways so smart and strong like Big Sur does.

And to me this show was a huge jubilant hurrah-other-side-of-the-coin celebration. Big Sur can fight. And Big Sur can play. Like no other.

I am humbled, and I love you. Thank you."